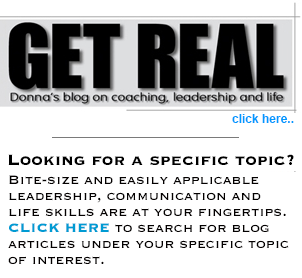 My goal is to serve my clients as a dynamic catalyst who sparks individual business leaders to higher levels of performance through measurable improvement of their leadership and communication skills.
Coaching - Developing leadership skills through customized executive training.
Consulting and Facilitation - Preparing organizations to close the gap between identifying challenges and implementing solutions.
Training and Development - Workshops designed and facilitated by Donna Rawady.

The success of my clients is characterized by:
The ability to activate and sustain accountability in themselves and in their associates.
Their courage to intuitively respond to their own ideas and values in problem solving.
Their ability to take action and communicate effectively.
Their ability to balance personal and professional time demands.
Leadership Development Workshops
Provide your leaders with tactical, immediately applicable tools and resources in key success areas. Affordable half and full-day workshops – and follow-up strategies for retention – can be customized to best serve participants and meet organizational objectives.